World Class Marinas
Gocek has developed very well in the marine sector and has six marinas in world standards, especially since it is a region where yacht tourism is predominant. Four of the most luxurious marinas in Turkey are located on the central coast of Göcek and two are located on Gocek Bungus Bay. Gocek village Port and Göcek Exclusive marinas, which were opened in 2010 in the north west direction of Gocek Center, belong to Beta marina company. D-Marin Marina (formerly Port Gocek Marina) at the end of the Gocek Coast band is operated by the world-famous company, Camper & Nicholsons. There are offices for those who want to buy and sell yachts in the marina. The yachts up to 45 meters can accommodate in the marina of which the capacity is 180 yachts on the land and 365 yachts in the marina. The first wavebreaker of the eastern Mediterranean is in Göcek and this breakwater is the third at the world. Gocek Municipality Marina which has 150 boats capacity is located in the middle of the Gocek coast band and has a concrete and wooden pier.
Gocek Village Port / Marinturk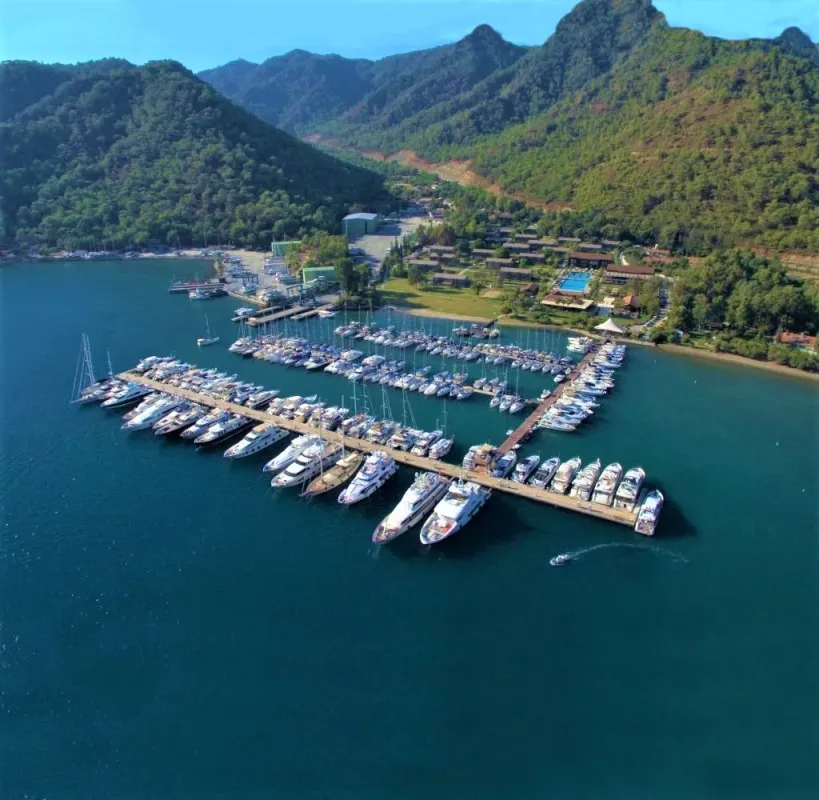 Located in Büngüş Bay, the distance between the marina and boatyard area town center and Göcek town is 5 minutes and the distance between Göcek town and International Dalaman Airport is 20 minutes. The marina serves with its experienced staff in order to meet the mooring place and land park needs of Göcek and its surroundings, which has become the center of attention of charter companies and private yacht owners, especially in summer. The marina, which will undertake an important support-logistics role in eliminating the difficulties faced by charter companies in their short-term accommodation, provides all kinds of towing-launch and maintenance-repair services to both these companies' boats and private boats, with travel lifts of 200 and 75 tons in the boat area of ​​30.000 m2.
| | |
| --- | --- |
| Phone | +90 252 645 2229 |
| Location | 36º45'15"N - 28º56'00"E |
| VHF Channel | 73 - Call Signal: marinturk |
| E-mail | villageport@marinturk.com.tr |
| Web | www.marinturk.com.tr |
D-Marin Gocek Marina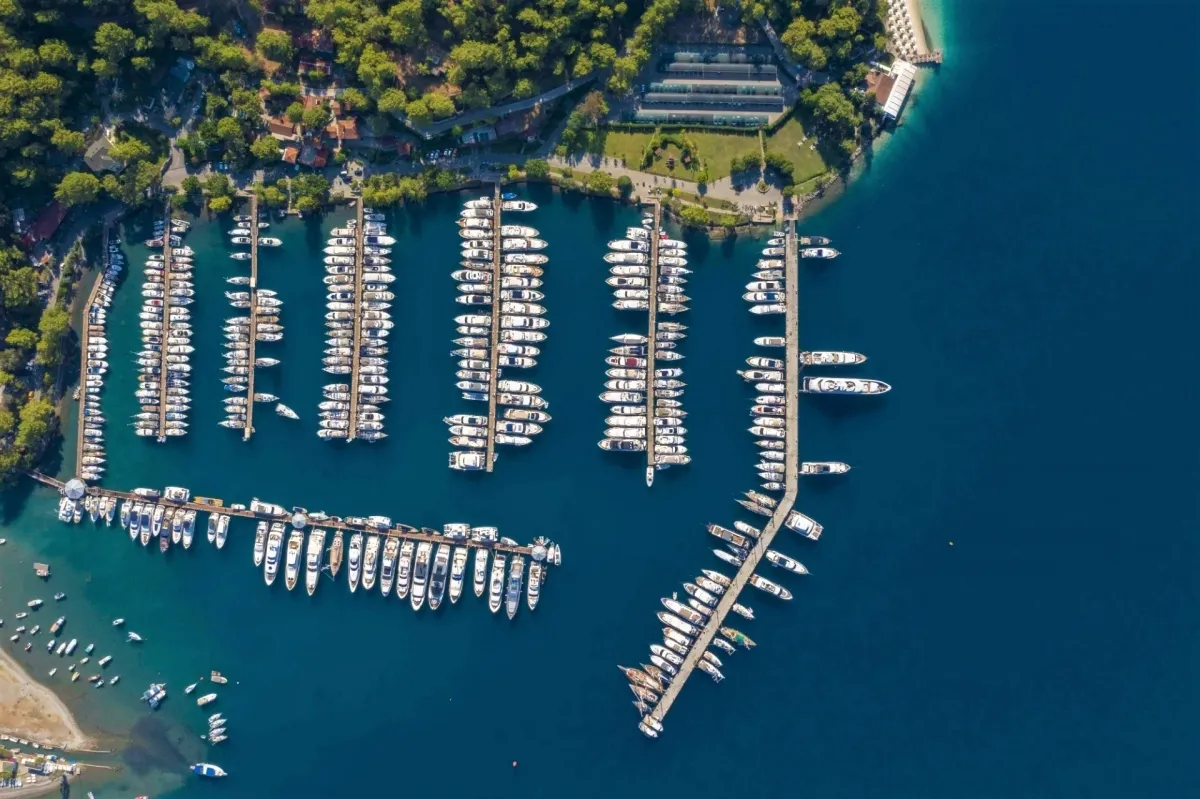 D-Marin, one of the most exclusive marinas in Turkey, offers an environment where you can spend quality time with its peaceful and calm atmosphere. Situated in a protected location due to its natural beauties, the marina enchants both the sea and its beaches, while the natural texture of the marina covered with pine trees makes you feel in nature. D-Marin in Göcek, where boats sailing in the Aegean and Mediterranean cannot pass without stopping by, hosts a fun activity with heavy boat traffic, especially in summer, while sailing races organized throughout the year create an unsatisfactory view on the sea as well as a whole makes it spread over the year. The marina, which is intertwined with the city center, offers quality options where you can spend a privileged time with the cafes, bars and restaurants around.
| | |
| --- | --- |
| Phone | +90 252 645 1520 |
| Fax | 0.252.645 1897 |
| Location | 36°44'9"N - 28°56'6"E |
| E-mail | gocek@d-marin.com |
| Web | www.d-marin.com |
Gocek Exclusive / Marinturk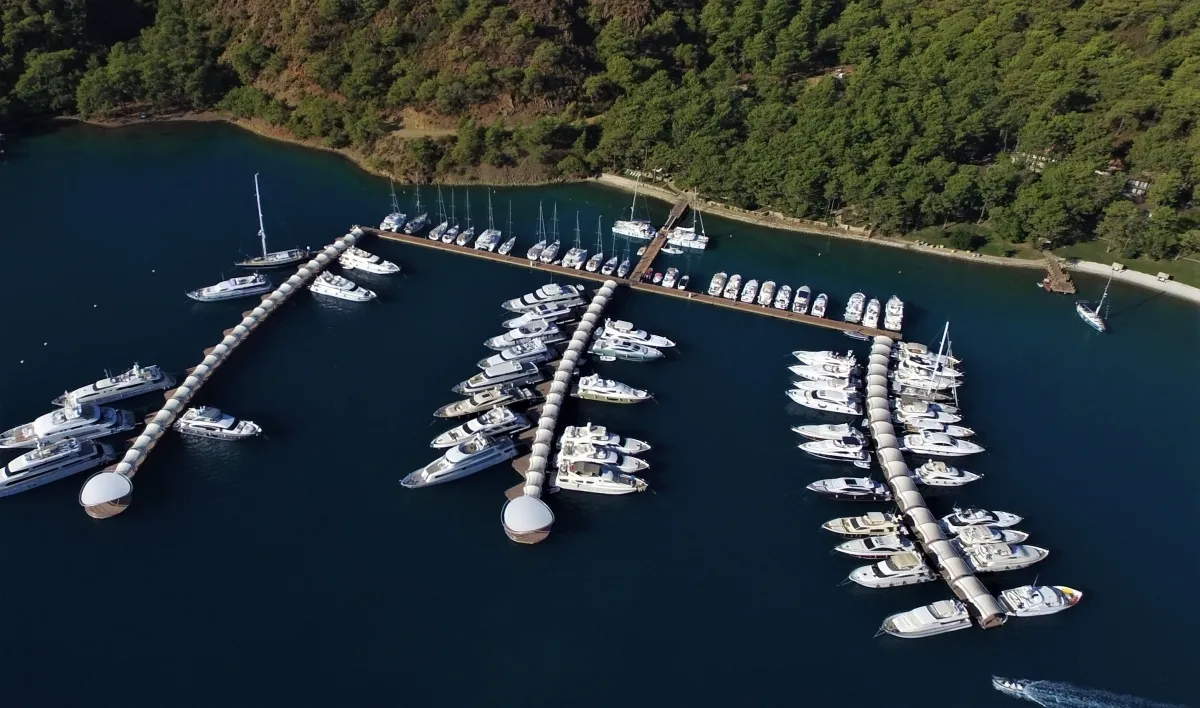 Providing 5-star marina services, the enterprise started to work with a brand new service concept with a total capacity of 972 yachts and 280 land parking capacity in its facilities opened in Istanbul / Pendik and Muğla / Göcek.
With these features, Marinturk constitutes the third chain of marinas in terms of business integrity in our country. In our facilities, floating piers designed with the systems with the highest standards in the Mediterranean, electricity connection up to 250 Amps, wireless internet, travel lifts that can land boats up to 200 tons, high technology systems for the disposal of all waste without harming the nature, 24 hours a day. camera-controlled electronic security systems and other services you may need. Our marinas have an advanced infrastructure where you can get all kinds of technical support that you will need in the maintenance and repair of your yachts.
| | |
| --- | --- |
| Phone | +90 252 645 2229 |
| Location | 36º45'34"N - 28º55'42"E |
| VHF Channel | 73 - Call Signal: marinturk |
| E-mail | exclusive@marinturk.com.tr |
| Web | www.marinturk.com.tr |
Gocek Mucev Marina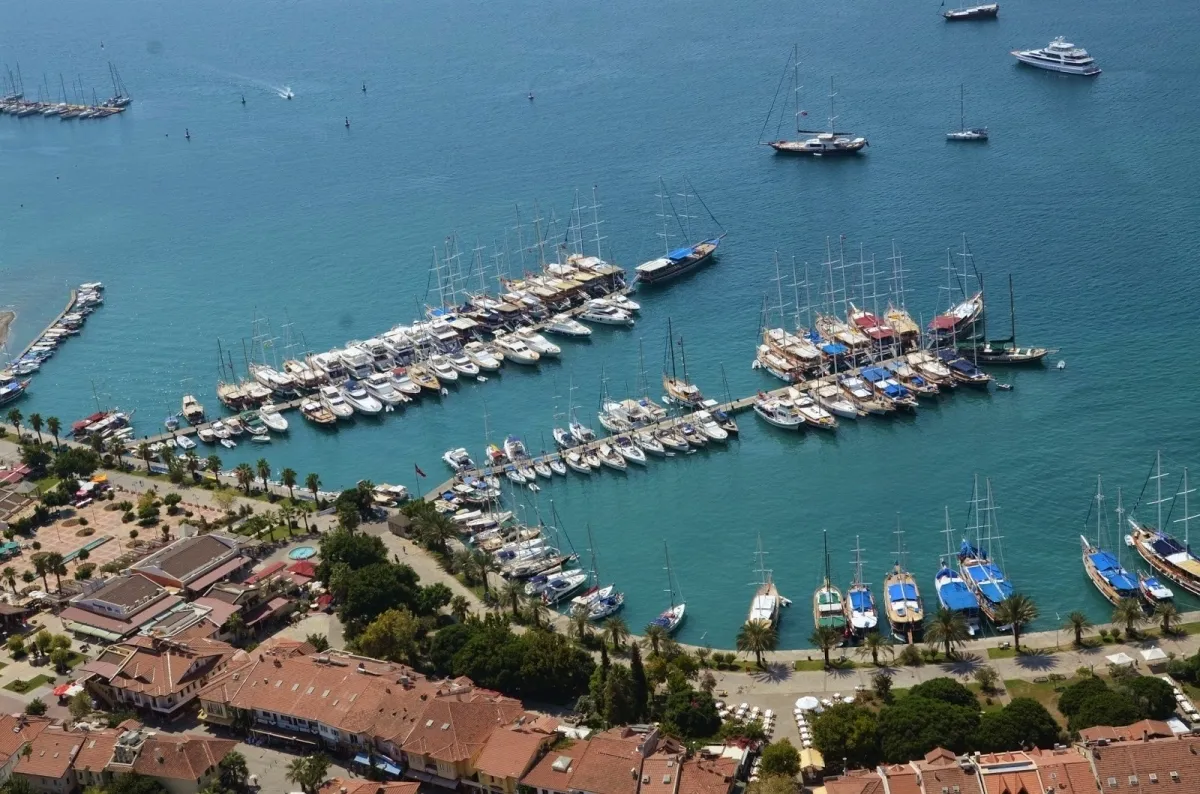 Göcek Mucev Marina serves with 2 piers in the city center. Gocek Mucev Marina, where you can refuel and waste disposal, has an advantage over other marinas in terms of price.
Electric-water service is available at Mucev Marina. Mooring Boats up to 15 meters can be given a vault rope. Larger boats can dock by mooring. Mucev Marina is located in the north of Göcek gulf.
Göcek Mucev Marina is a preferred marina because it is very close to supermarket, shopping centers, restaurants, boat and yacht shops and is affordable in price.
| | |
| --- | --- |
| Phone | 0 252 645 2122 / 0 537 320 6886 |
| E-Mail | infogocekmarina@gmail.com |
| Location | 36º 45' 16" N - 28º 56' 48" |
| VHF Channel | 13 |
| Call Signal | Gocek Marina |
Gocek Club Marina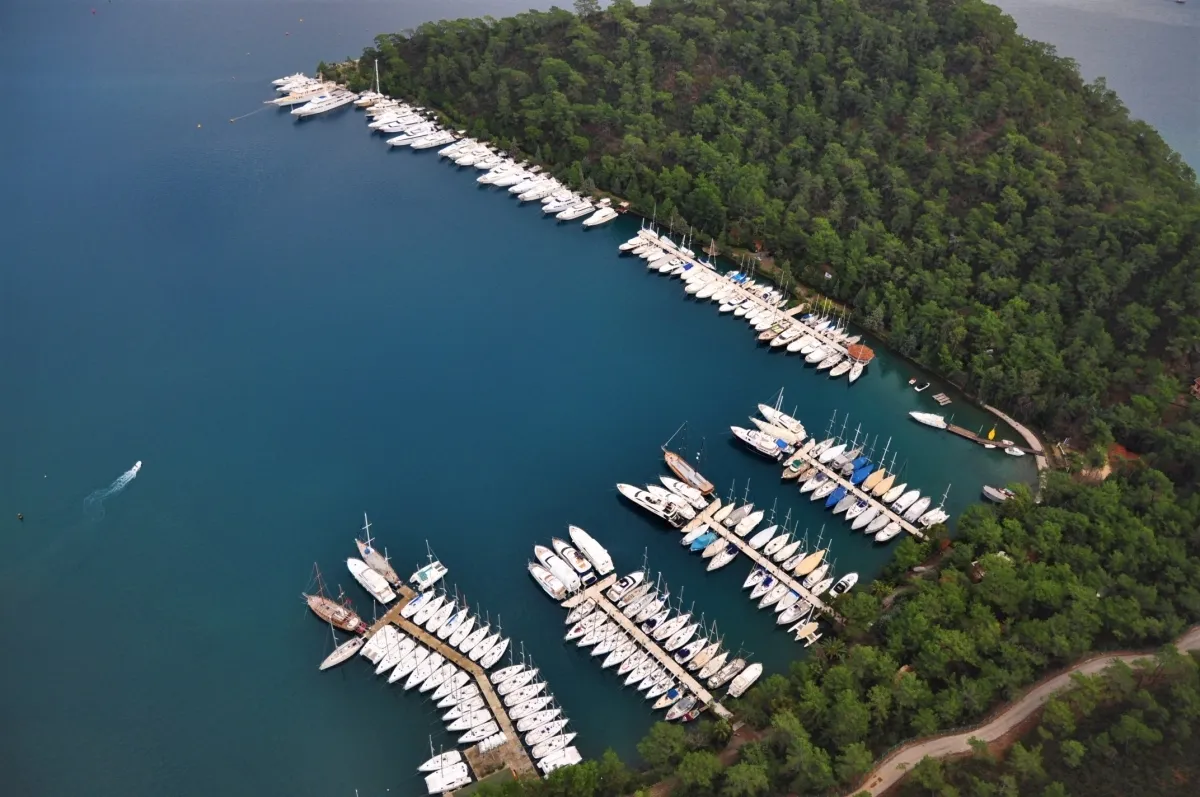 Located in Muğla's Fethiye district, Göcek town, Büngüş district, Club Marina is Turkey's first natural marina, which was established in 1990.
Providing service on a total area of ​​44,998.32 m², Club Marina is also the most sheltered natural marina in Turkey in terms of its location. It is possible to moor up to the service boats in Mega Yachts in the marina.
CLUB MARINA is the only marina in Göcek that can serve mega yachts. Only mooring service at sea is provided within the marina.
| | |
| --- | --- |
| Phone | +90 252 645 1800 |
| Fax | +90 252 645 1804 |
| Location | 36º45'16"N - 28º56'48"E |
| VHF Channel | 72 |
| E-mail | info@clubmarina.com.tr |
Gocek Skopea Marina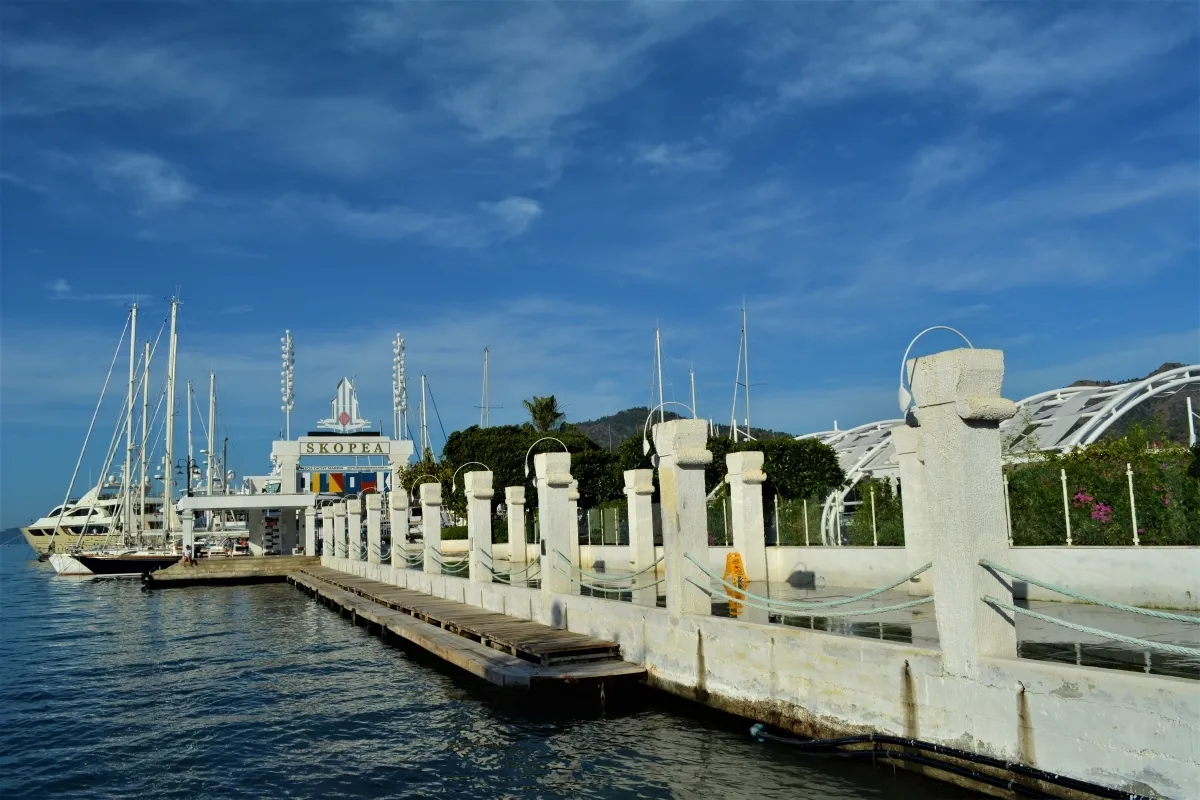 Skopea Marina, located in Göcek town of Muğla's Fethiye district, is the first private marina of Turkey, established in 1989. Serving on a total area of ​​5,371 m², Skopea Marina is also one of the two marinas that can serve mega yachts in Göcek due to its location.
Our marina serves with 80 mooring capacity.
Skopea Marina is 25 minutes away from Dalaman International Airport by road.
| | |
| --- | --- |
| Phone | +90 252 645 1794 |
| Fax | +90 252 645 1793 |
| Location | 36º45'16"N - 28º56'48"E |
| VHF Channel | 72 |
| E-mail | skopeamarina@gmail.com |