Although the first thing that comes to mind when it comes to ''Blue voyage in Göcek'', beautiful bays and historical ruins, the restaurants and delicious food in the anchored bays are a must for a beautiful holiday. In this article, we have listed the Restaurants in Göcek Bays and Göcek Islands for you.
Olive Restaurant / Bedri Rahmi Bay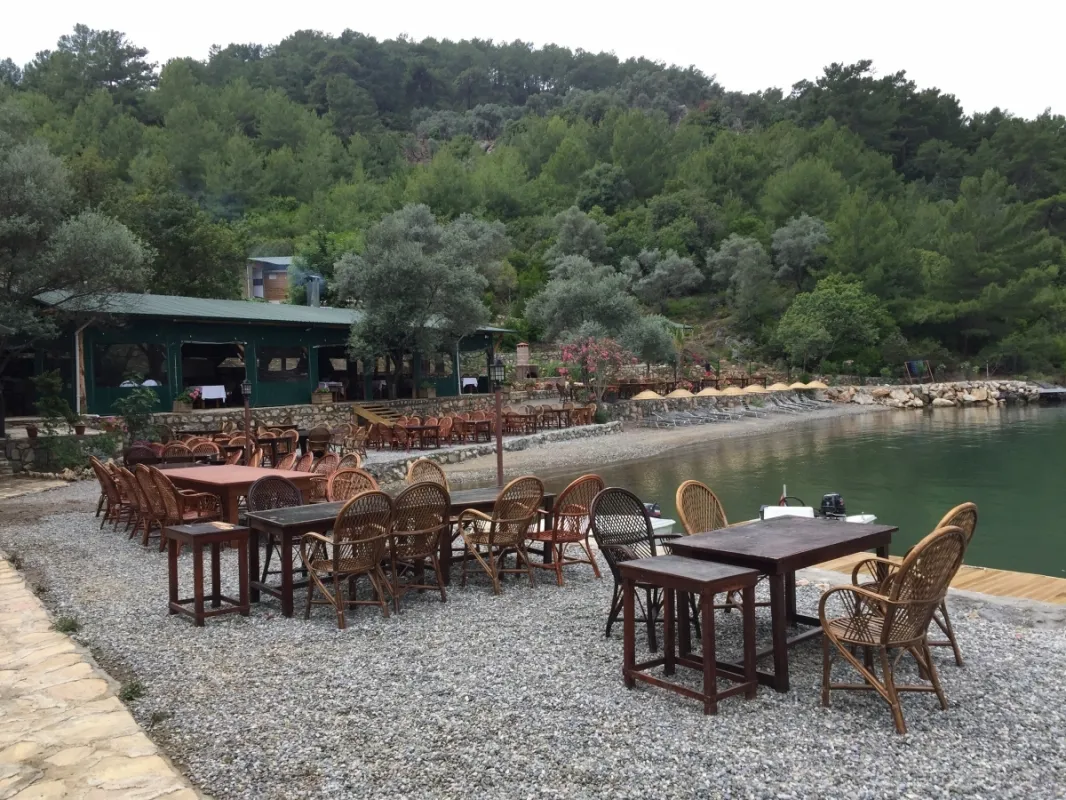 Here you will find all the inspiration you need to write a novel with its magnificent nature, olive and green pine trees, turquoise crystal clear sea. You will forget all your tiredness with an exquisite dining experience amidst the sounds of birds. The caring and friendly team of staff will be ready for your meal to go smoothly. The restaurant is very nice and the food is delicious. We recommend fresh fish and seafood. Also the fresh hot pan bread made by the locals is fabulous.
Likya Onno Restaurant - Bedri Rahmi Bay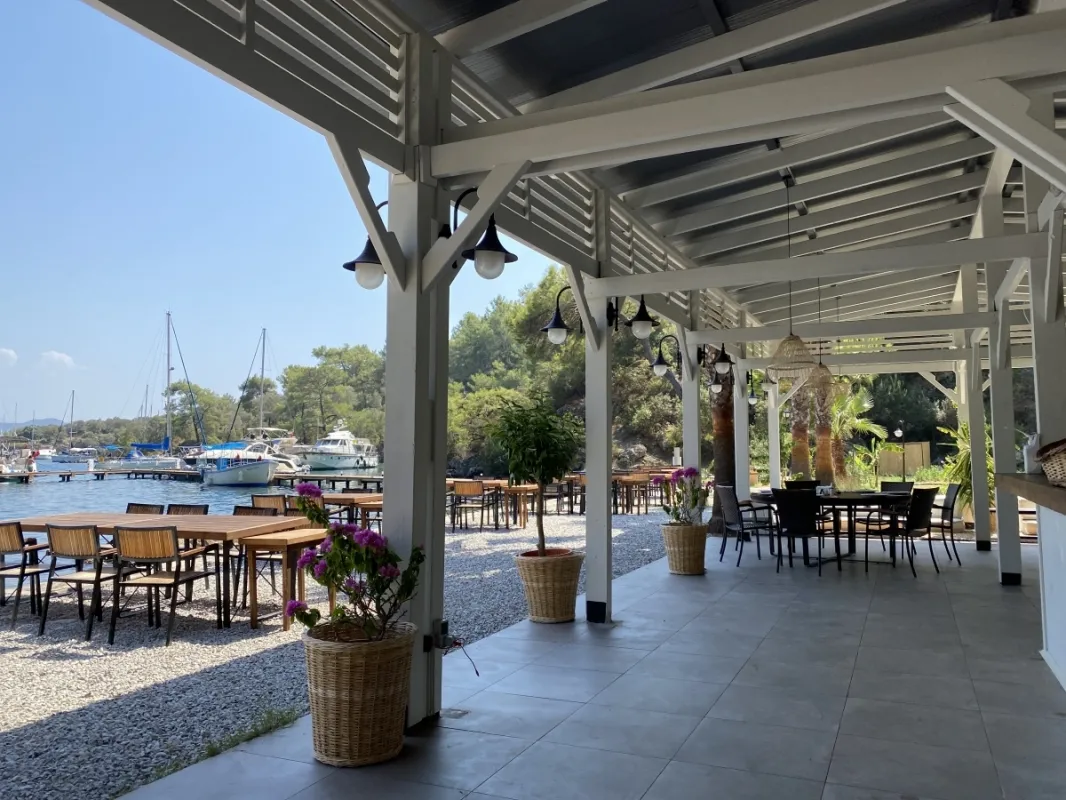 A brand new place was born in Göcek bays … Likya-Onno Restaurant, which became popular in a very short time with its renewed form, entered our list of places with its magnificent food, excellent service and magnificent sea.
Adaia Restaurant / Kleopatra Hamam Bay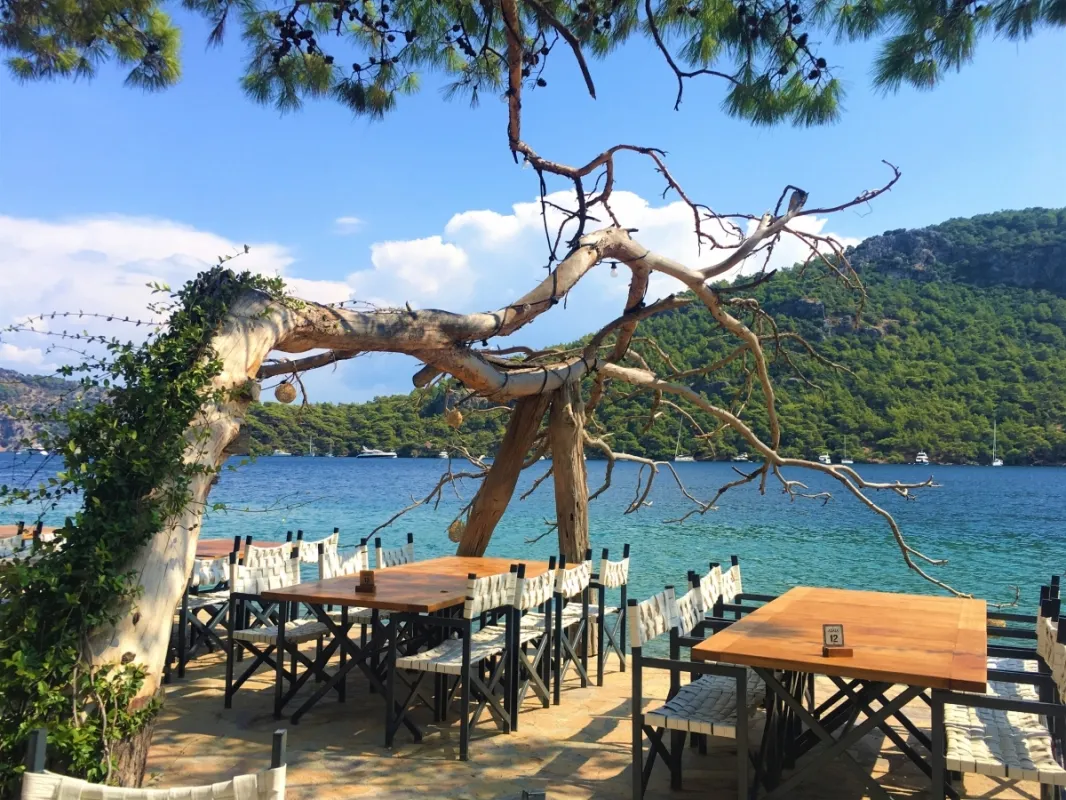 When you sail in Gocek region, sometimes you may want to put your feet on the ground and have a nice meal. Adaia Restaurant is the perfect place to anchor your boat and enjoy seafood and Mediterranean cuisine.
It has been completely renovated by its new owners and has become one of the favorite spots of sailing enthusiasts in the Göcek region. The restaurant has delicious food and fast service.
Showers and toilets are clean, hot water is available all day. It is designed to be a sand beach where children can also have fun.
Tersane Island Restaurant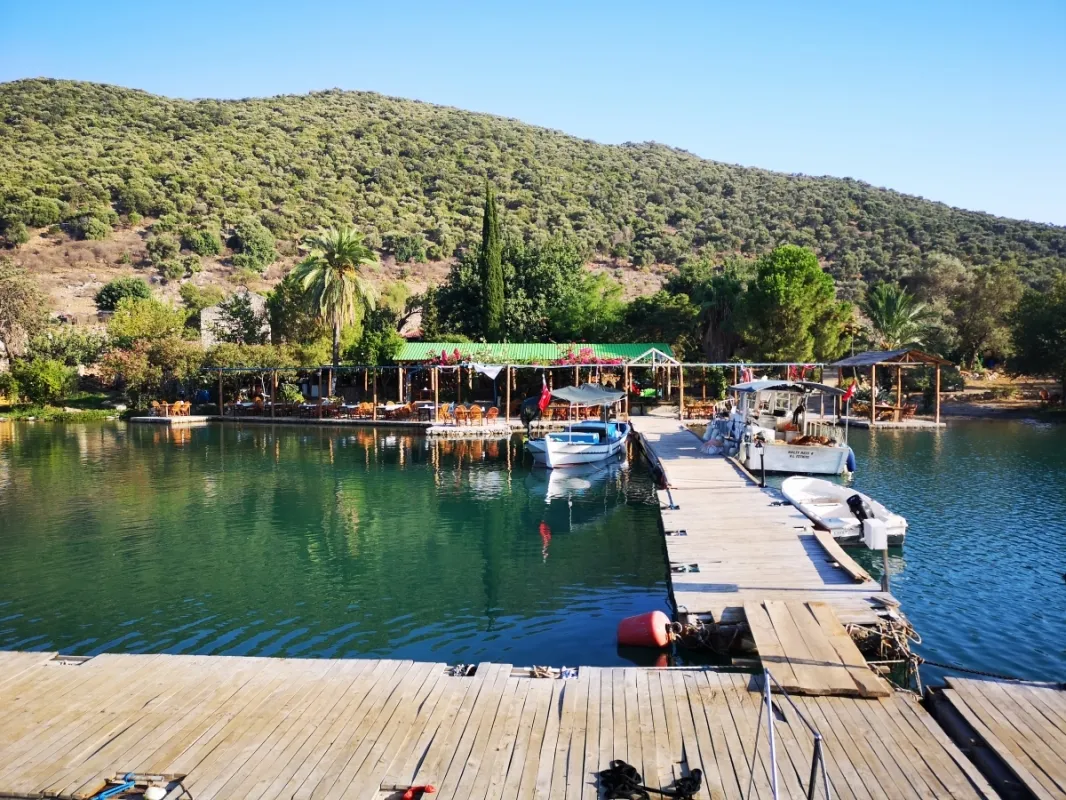 Tersane Island Bay, one of the rare bays of Fethiye / Göcek / Dalaman Bays, is at your service in the summer of 2021 with its unique tastes. Tersane Island Restaurant has been serving you as a family business since 1983.
While trying to provide the best service to our seafarer friends, not to spoil the natural environment, listening to the symphony of the birds between two blues, tasting our excellent flavors, offering our guests appetizers prepared with fresh vegetables of the Aegean, we guarantee that you will not forget the unique taste of Tandır, which we prepared from lamb or kid according to the period. At our pier with a capacity of 30 boats, you will be enjoying our unique flavors with your family and friends while your boat is safely moored.

Boynuzbuku Restaurant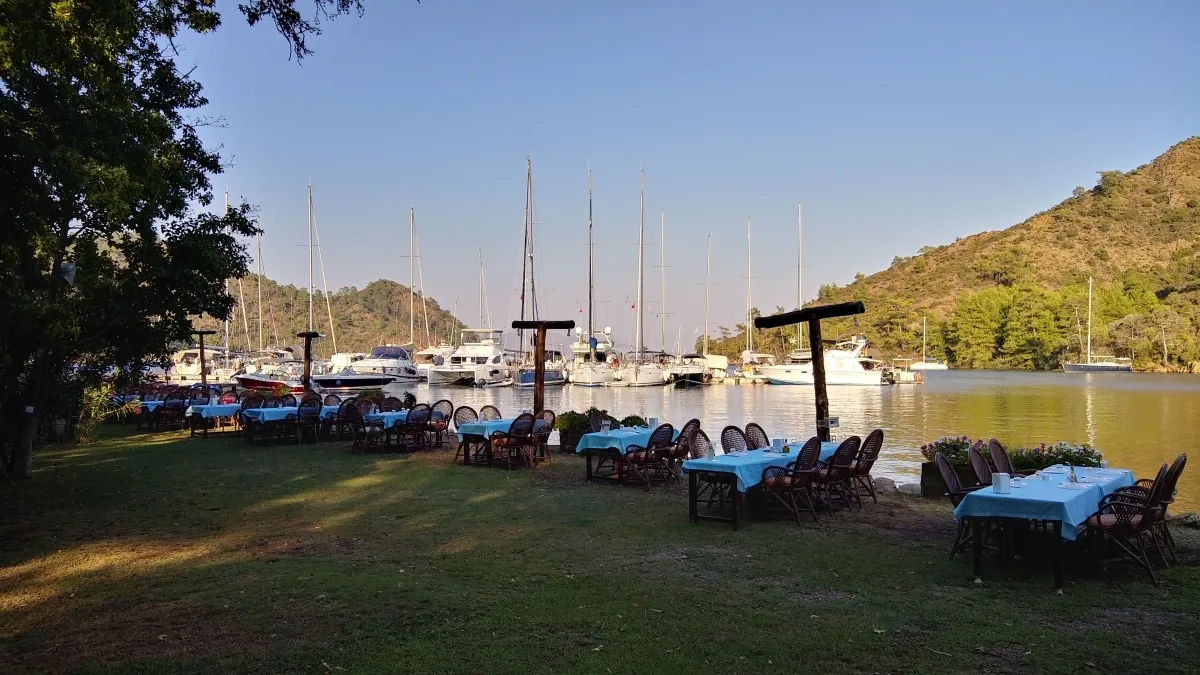 It is a large bay in the west of Küçük Yılanlı Island. It is a natural wonder bay that always creates the feeling of "I wish I could stay here forever" with its calm sea and exquisite view. The bay which is recessed to the west has a flat and wide area covered with sweetgum trees. The depth is less in the northwest recess and anchors are cast here. There is Boynuzbükü Restaurant where there are sweetgum trees. This place has a wooden pier with a capacity of 20 boats. The pier becomes shallow to a depth of 3 meters of the coastline. There is also a water sports center at the property. Boynuzbükü is 17 km from Dalaman.
Gobun Restaurant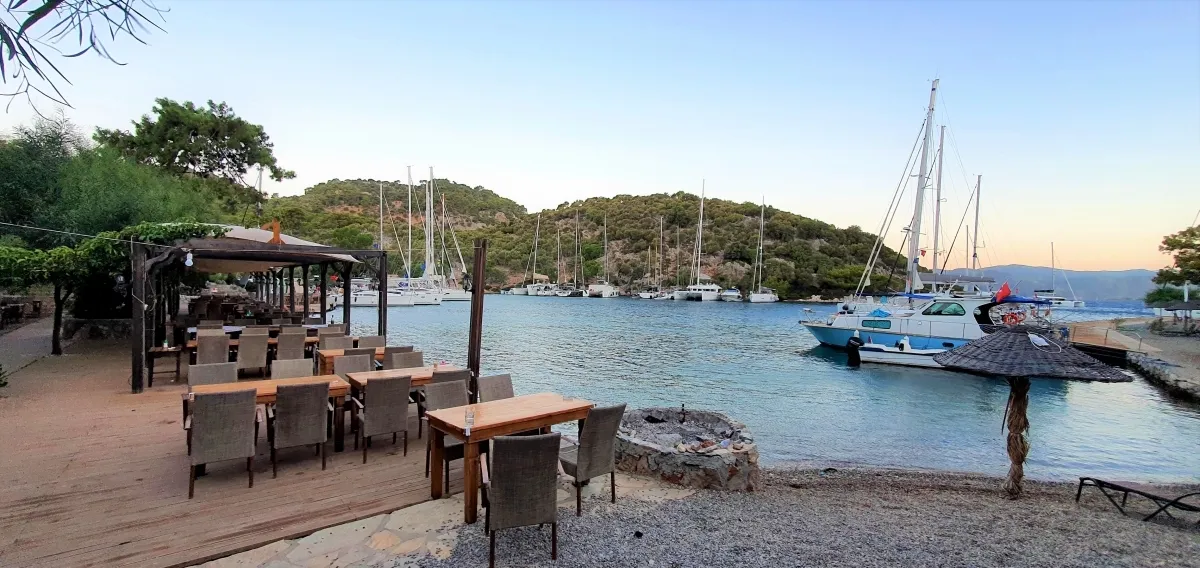 Göbün Restaurant is the indispensable point of blue voyage tours: This is a small corner of paradise. Ropes and helpful staff will be waiting for you to anchor. Perfect service, fresh fish and delicious food will add value to your holiday. Be sure to try the famous Lamb Tandır. The ideal setting for a pleasant meal between green and blue, away from the crowd.
Sarsala Restaurant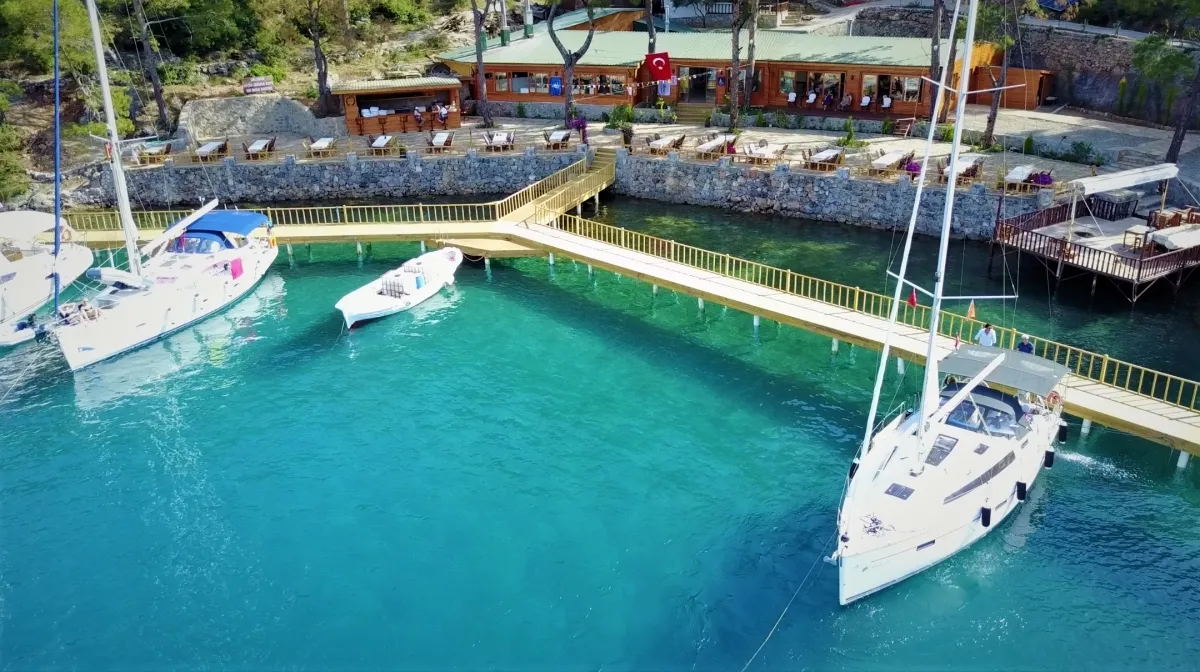 Since its establishment in 1993, our restaurant which does not compromise on its first day service understanding and customer satisfaction has been serving in Küçük Sarsala Bay with its marina, distinguished dishes and unique presentation.
Our private pier with a capacity of 35 boats and Sarsala Restaurant starts the season by being renewed every year in order to provide better service to its guests.
This heavenly bay, where you will find peace in a quiet environment, is the favorite resting place of many sailors.
We invite all our seafarer friends to Sarsala Restaurant during our season from April to November...