You will be on the sea most of the time during your
blue voyage
between natural beauties and plenty of activities. The most delicious moments of this process are, of course, the meal times when the magnificent tables are set. Eating and drinking is an extremely important action on blue voyages that carry the traces of the Aegean and Mediterranean. Therefore, it is extremely important to conduct a short study on this subject before the boat holiday has started. Although your crew can bring your needs in service boats, you may not need them at all during a scheduled period.
You should definitely make a study about your own menu according to the duration of the boat you rent with or without a crew. Your agency can also do the shopping you need to do within the scope of the menu you have determined, on your behalf, without coming to your boat.
Who has the kitchen?
Chartering a
sailboat
or
catamaran
is one of the charter options you can do without a crew. If you do not have a special request, the kitchen is completely under your control in this process. Therefore, you may need to manage the shopping and process more carefully. Since gulets and motor yachts are compulsorily chartered with crew, the menus you set in the kitchen are prepared in the best way by the staff. You can also enjoy the sun and the sea during this time.
What should we eat?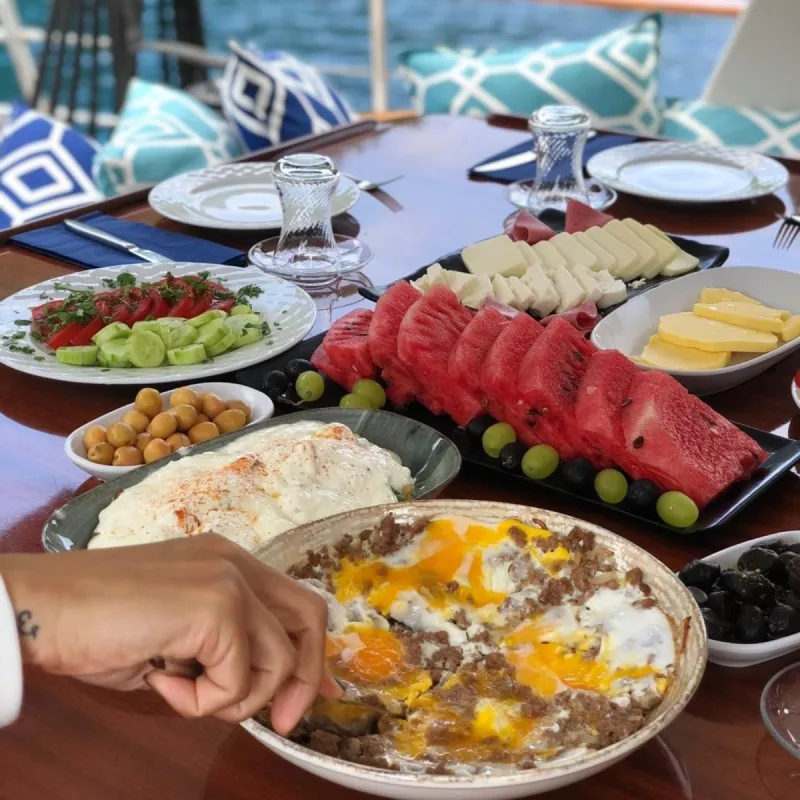 The following sentence will come to your mind after many activities you have done during the blue voyage. "The sea makes you hungry." Therefore, your breakfasts are very valuable for your energy and the first moments you will spend in the magnificent bays. A nutritious breakfast table is a must for blue voyages. Drinking plenty of fluids all day is also extremely important for your health during your active vacation. For lunch, lighter vegetable meals will be very suitable both for your health and for you not to experience bloating. You can easily reach the freshest fish in the evening through your captain and staff. The cooks of our boats offer you many different menus for meat and chicken in the best way.